New Album By Michael Johnson (MJ) Hits The Airwaves Massively
"Adom Bi k3k3" which happens to be the latest album release of Michael Johnson a.k.a MJ an emerging Gospel artiste in Kumasi has taken the airwaves by surprise.
All over radio stations in kumasi and Sunyani, most radio frequencies when tuned are playing this latest release of the new Gospel Gem.
The melodious Song of Johnson in the release of 3 days has injected people with a reason to sing Praises to God For His Sufficient grace.
It is amazing how people are singing along the song and Djs playing it over and over again.
Michael Johnson (MJ) under the record label of Action Records Production Headed By Desmond Osei Assibey has attested to the fact that the Grace of God has power and is a reason for Him coming this far.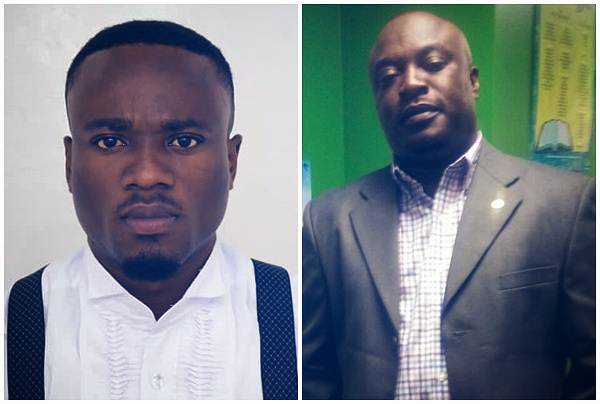 PHOTO: LEFT : Simon Obeng Takyi and RIGHT : Desmond Osei Assibey
These albums were released under the auspices of Action Records Production (Headquarters in Philadelphia, Pennsylvania).
Mr PHD – Cross Over 2017
Isaac Frimpong – Medinkunim 2018
" Coming this far is not by Chance but by the working of God's Grace. I recall how I started my Music carrier Some years ago in Kumasi with a desire and a passion to transform lives.
Although the journey has not been easy, I knew God had a purpose and a timing for my life. and I am very grateful to God for making "Adom bi K3k3 a reality".
"ADOM BI K3K3" which is literally translated from the Akan dialect as "Sufficient Grace" is Minister Michael Johnson's first album under the Ghana – USA records label, Action Records Production
When asked of his message to the entire Christian fraternity and fellow Gospel artiste, Johnson said
" I encourage everyone and my fellow Gospel Artiste to trust in the Lord, keep focused and above all wait Patiently on the Lord for HIS own appointed time, For in his own time He makes all things beautiful"
Adom bi k3k3 is engineered by Bassey Mix one of Ghana's number one recording studio. It is not surprising to Fall in love with the tune of this master piece.
Joining this massive promotion is Ashanti Gospel Presenters Association (AGPA), a gospel music promotion association in Kumasi in connections with 20 biggest radio stations in Ashanti region.
For Bookings or info Contact Action Records Production, Simon Obeng Takyi (Manager) – 0246088664.